Friday is upon us again.  Oh where does the time go to?  I've had a busy week but really would you have it any other way?!! I hope you all had a good week yourselves.
If you're wondering what this meme is about click here for details.  Or visit Susanne's at Living to Tell The Story.
1.  Getting help!! It's not always an easy thing to ask for help but I did it.  I've read a lot about weight loss and what to do and how to do but like they say easier said(for my case read) than done.  So I decided to ask for help.  And I'm glad that I did.  I'm getting some help from a professional trainer and he's going to help me shed some pounds.  It feels good to have help.
2. Speaking with my sisters.  I haven't spoken to them in a while so it was nice to hang on the phone and chat. We're close and there is always so much to catch up on.  And we always have a good laugh.  That's always good.  It was great to catch up.
3.  Trying something new.  So I buy fruit almost everyday here because not only is it good for you but it's cheap.  Thailand is blessed – so much grows here.  Here's the problem though, almost always I buy the same old stuff,  so yesterday I decided that I should try something different and this is what I had.
So play along here……anybody want to have a guess what this fruit may be?  Don't you just love the color?
4.  Meeting up with friends again after a long summer break.  There are a couple more weeks left but  people are beginning to return from their holidays and it's nice to see old faces and of course new faces too.
5.  Thank You Hershey's. Oh I'm so grateful that I found these chocolates at our little supermarket the other day.  It just made my day.  Low calorie chocolate!! Now I don't have to feel so guilty.  You gotta  love it.
Well there you are my Fave Five. 
What made your week?  Do share.  And don't forget to visit Susanne our lovely host and also see what made other bloggers happy this week.
Happy Weekend!
-Oh and the fruit, it's a dragon fruit.  Not sure why they gave it that name.  And it was delicious.  Different but great.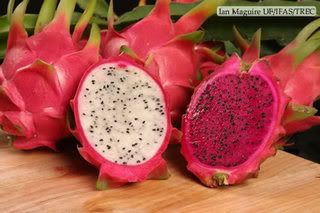 image from photobucket.