It's Friday and it's the weekend tomorrow. And I'm sooo looking forward to it.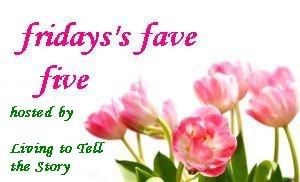 This week I purposefully slowed down. I made a choice to really slow down, not to fill up my days but to just hang out with my son during the day and pay closer attention to my girls, their school activities and so on. It's been crazy the last couple of weeks and I was beginning to feel overwhelmed, so I'm thankful for this slow week.
Well it is Friday so here is my Fave Five.
1. Spending time with my son. Because I consciously made that effort not to have busy, overscheduled days I was able to spend a lot of time with my son. He is growing, and growing way too fast. He's now crawling on his knees and at every opportunity pulls himself. It's been wonderful to just be together. I have a great nanny who loves to be with him so she doesn't mind when I'm busy so she can be with him. I realize that it really is only a season. He will be all grown up soon and will not need me so much so these are precious moments.
2. Swimming in the afternoons with my kids. Oh how we are enjoying the clean pool. It gets so hot these days that the only quick way too cool down is to get in the pool. My girls and boy love it. In fact I love it too, it's so refreshing.
3. New Shoes. Oh how I love to shop and shop for shoes. Not only for myself but my son too. Yes I bought new shoes this week for my little man and myself. (Below photo of my shoes. My sons shoe pics to come - they've been misplaced… already!! lol )
4. Nothing makes my heart melt more than hearing my children compliment me. Especially when I least expect it. Compliments from my children are priceless. This week I got not one, not two but three from both girls. Oh it made me be proud to be a mama. We do so much and it's nice to hear a thank you or a compliment. It goes a long way.
5. Joy in my heart to know that not only is my 9 year old doing okay at school and she's doing just okay. But to hear from her teacher that she has great social skills. To hear that she's able to get along with everyone, and that she is well liked. I know it's important to be book smart but I am one of those mother's that wants my children to learn to get along with people of different cultures, and values than hers and to appreciate them. To learn from them and be tolerant. Not to necessarily agree with everyone and everything but to be able to respectfully disagree. So to hear my daughters teacher tell me that she has great social skills made me happy.
So these are my Fave five. To share your Fave Five head on over to Living to Tell the Story.
Have a great weekend everyone!!